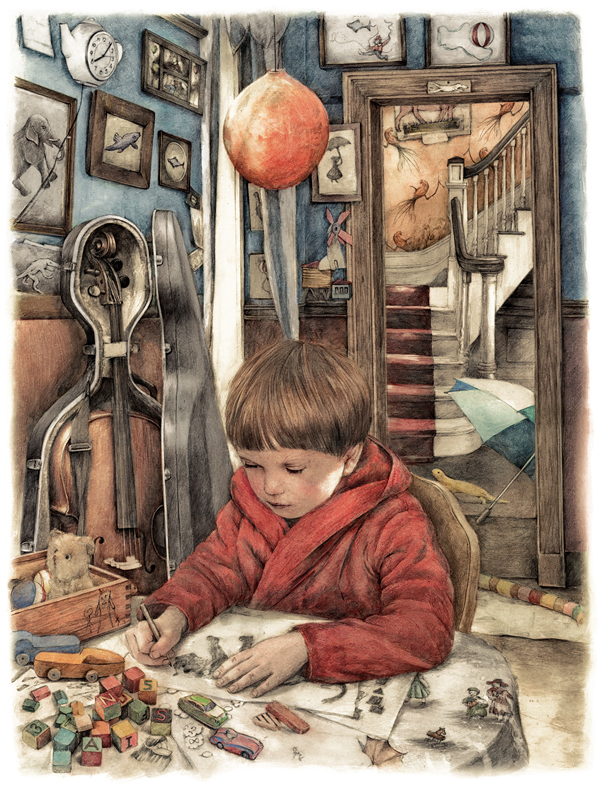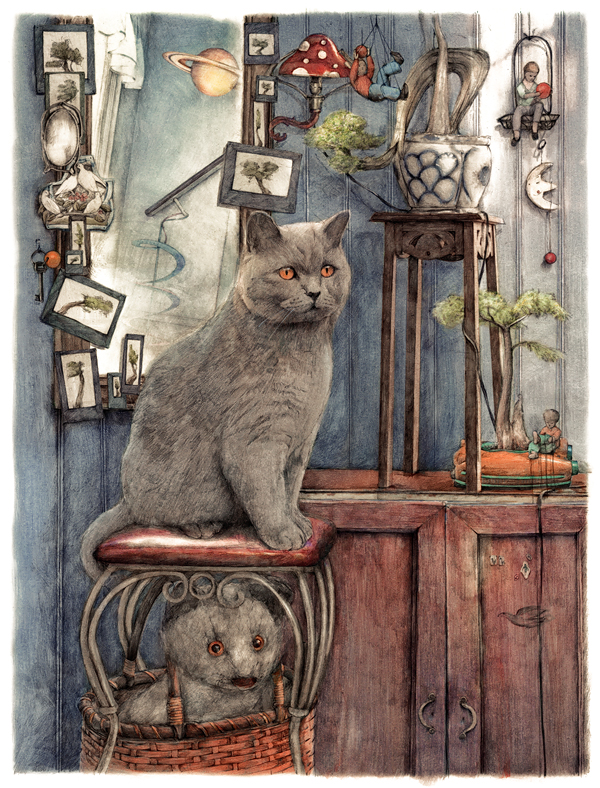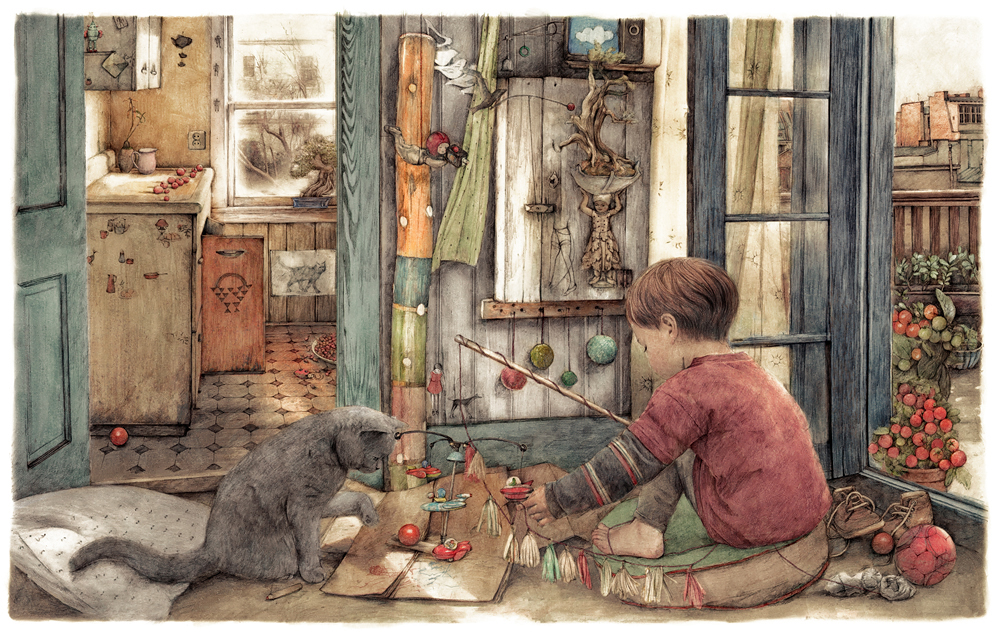 from the Picture Book
Little Night Cat / Kleine Nachtkatze

pencil, ink, watercolor, gouache on Paper
Publisher's summary


When Toni, a little boy, bravely offers his favorite stuffed cat to the animal shelter to raise money for the needy dogs and cats,
it touches his mom's heart. Later that night Toni misses his stuffed toy, and his mom offers her old stuffed animal. He embraces
it with such love that his mom rewards him in a way that he never imagines.
Reviews

-----> Kirkus Reviews
-----> New York Journal of Books
-----> Publishers Weekly
Award of the children's Jury
/ Troisdorfer Bilderbuchpreis 2017
Little Night Cat Sketchbook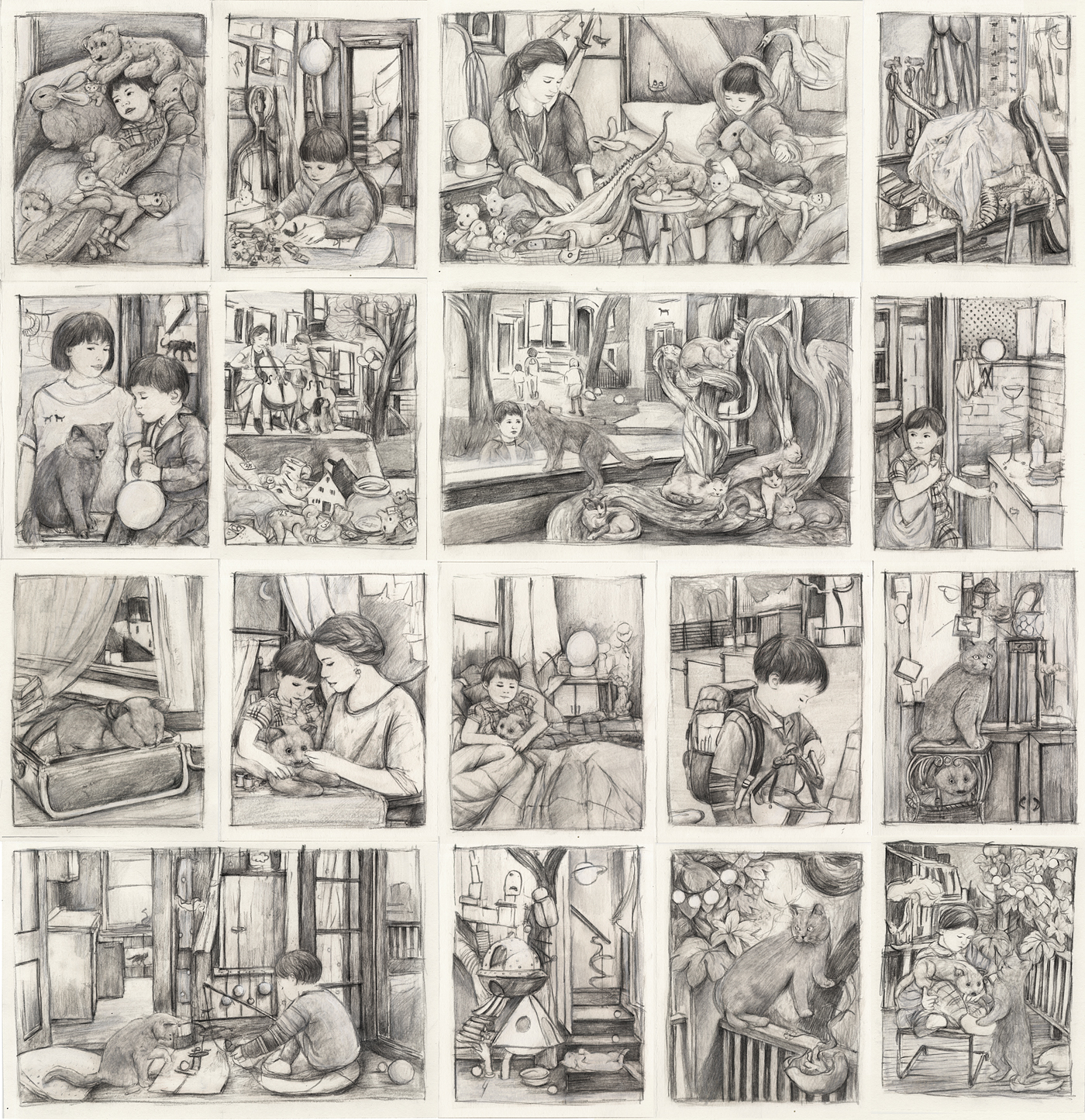 .
German Edition

Kleine Nachtkatze

published by NordSüd Verlag 2016
ISBN: 9783314103377


English Edition

Little Night Cat

published by NorthSouth Books NY 2016
ISBN: 9780735842663


Turkish Edition

Küçük Gece Kedisi

published by Beyaz Balina Yayinlari 2017
ISBN: 9786051881386


Spanish Edition

Pequeño gato nocturno

published by Lata de Sal 2017
ISBN: 9788494665042


Galician Edition

O Gatiño Nocturno

published by Lata de Sal 2017
ISBN: 9788494665059


Catalan Edition

El Gatet de la Nit

published by Lata de Sal 2017
ISBN: 9788494665066


CHinese Edition

小夜猫

published by CCPPG 2018
ISBN: 9787514844115


Romanian Edition

Prietenul meu de noapte bună

published by Signatura 2019
ISBN: 9786069461532


Czech Edition

PŮLNoČNÍ kocourek

published by Edika 2019
ISBN: 9788026614364

Greek Edition
Ο μικρός νυχτόγατος
published by Kokkini Klosti Books 2020
ISBN: 9786185482008

Russian Edition
Плюшевый кот
published by Enas Kniga 2021
ISBN: 9785919219101